Devotees willing to donate for various pujas should send name, address and the 'gotra' of the person for whom the puja will be offered. If gotra is not available, full name and father's name should be mentioned.



Donations for various pujas in form of cash/ cheque/ demand draft should be drawn in favour of Golden Trust, payable at Calcutta at the following address:
Golden Trust
70 - Diamond Harbour Road, Calcutta - 700023
(Near St. Thomas School, Khidderpore),
West Bengal, India
Special puja offerings (archana and abhisekham) for the public are on Tuesdays and Fridays from 5.45 am to 6.45 am

Booking for regular Archanas as well as Archanas for auspicious occasions like birthday, marriage anniversary and remembrance of relation/friends can be done by any person in the office.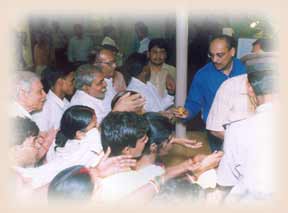 All Puja materials (samagri) for Archana Puja will be provided by the Temple.

Rs. 101/- per devotee for Archana Puja, maximum 20 people each day.

Prasad comprising of 'makhana' and 'roli' (sindoor) will be sent by post to the devotees